Polecam czytać poniższy wpis słuchając…
31 października 2013 roku zespół Atari Teenage Riot opublikował takie oświadczenie na swoim profilu na Facebooku.
Jak zespół napisał w dzisiejszym newsletterze, od tamtej pory fanpage opuściło ok 30 tys. fanów.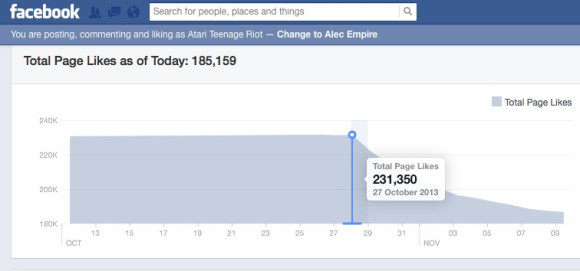 W newsletterze napisali również:
To an outsider all social networks might look the same, but there are major differences in the way your private data is being monitored and comercially exploited. We recommend using our Twitter or Tumblr pages (or this newsletter).

Many people are working on solutions and very interesting new ideas are being developed at the moment.

Check out http://www.trsst.com/
OK, wiem, my fani Atari Teenage Riot jesteśmy specyficzną grupą i nawet jeśli większość z nas porzuciłaby Facebooka zupełnie, biznes Marka Zuckerberga nawet by tego pewnie nie odczuł. Ale to tylko jedna historia spośród wielu, które mówią o użytkownikach porzucających serwis i nastolatkach bardziej zainteresowanych innymi usługami.
They feel that everything they post on Facebook is scrutinized, and they could jeopardize their future by sharing themselves being silly, partying, or by discussing their opinions. They worry parents, friends, and potential hirers might discriminate against them based on their digital past.
Memento MySpace.